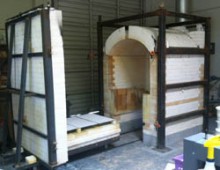 I'm very excited to share my new Tumbling Stone Kiln Project!
In partnership with Hatchfund.org, a non-profit organization dedicated to helping artists raise money for worthy projects, I'm raising money to build a new kiln at my studio. The goals of this project are are to promote personal growth in the arts while also expanding ceramic arts experiences for the local middle schools.
If you can support this project with a donation, in any capacity, together we can make this idea a reality! Check out the project here! http://www.hatchfund.org/project/tumbling_stone_kiln
About Hatchfund:
Hatchfund's mission is to provide resources and support to the artists who advance culture and inspire brilliance. Projects on Hatchfund enjoy a 75% success rate. This crowdfunding service is free for artists with donors helping fund operations with small additional donations. For more information, visit Hatchfund.